We were delighted to catch up with Neil Harvey, Chair of the BAUS Section of Trainees (BSoT) about his life as a trainee urologist and his plans for the association.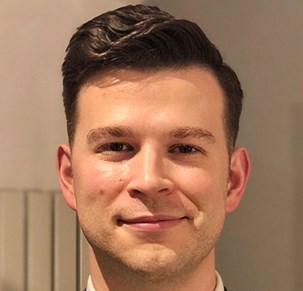 Can you tell us a little bit about what led you into the field of urology and the highlights so far?
I serendipitously stumbled into a urology placement at Wrexham Maelor in my final year of medical school, having never been exposed to the speciality prior to that. While there I managed to glimpse the breadth and complexity urology had to offer, as well as seeing the fantastic people and educators the specialty attracts, including Alan de Bolla, Iqbal Shergill and (at the time a specialty registrar) Beth Hickerton. It was probably the best four weeks of my six years at medical school, and I was confident I wanted to pursue a career in the specialty.
I followed this with a placement in urology at the Manchester Royal Infirmary in my Foundation Year 1, where I had my beliefs in my career choice confirmed while working for Richard Napier-Hemy, Steve Payne and Ian Pearce, all of whom I continue to consider mentors even now.
I have continued to be lucky enough to have excellent trainers in every department I've worked in. I am certain that the greatest strength of urology, and the thing that attracts others most to the specialty, is the good-nature, approachability and positivity of the people who practise it.
What has been the best piece of advice that you have received in your career and what advice would you offer to those following in your footsteps?
This is difficult to answer as I've been given so much good advice over the years. If I can cheat and conflate two pieces: "Your default should be yes, but learn to say no." I would encourage everyone to seriously consider every opportunity in front of them, even if it seems daunting or you have been knocked back previously. For all the roles I've stood in elections for and positions I have interviewed for, I can confidently say I have been successful only half the time, and if I had stopped saying "Yes", I'm certain I wouldn't be being interviewed here. People often do not remember (or even know) the role or opportunity you did not get or achieve, just what you have done, so please, just put yourself out there again and again. To temper this enthusiasm, I would stress that although considering every opportunity positively is vital, it is far better to complete three tasks well than fail to complete four. Particularly, alongside the growing awareness of burnout globally in medicine and surgery, learning to say "No" is equally essential, to ensure your own wellbeing and to ensure that you can devote the time necessary to fulfil a role.
What one paper or textbook would you suggest all trainee urologists read?
I would encourage every trainee to read Superforecasting: The Art and Science of Prediction by Philip E Tetlock and Dan Gardner. We spend almost all our time in training improving our knowledge and skills, but rarely, if ever, do we learn how to manage and mitigate uncertainty. Superforecasting is an easy, good read that helps to address our inherent biases in the way we think, as well as teach some skills to help mitigate the uncertainty inherent in surgical practice.
What do you think have been the most exciting developments in urology in recent years?
There are so many, but from a training perspective, I think the 2021 curriculum will streamline training and give people greater opportunities to better develop their subspecialty practice within training programmes. Similarly, I think the new curriculum will offer those seeking a CESR a set of goals that are much more in line with future consultant practice.
You are the current Chair of the BSoT; what would you like to achieve while in the role?
I hope that by the time I demit at BAUS 2022 that BSoT will have delivered a face-to-face BSoT conference, as well as courses supporting medical students, foundation doctors, core trainees and clinical fellows, to better cater for the breadth of our membership. Equally, I would like to see increased working with industry to offer cadaveric courses to ensure that early years trainees disproportionately affected by the coronavirus pandemic have opportunities to develop their skills in a safe environment.
I hope the legacy of these courses will be more involvement of these groups with BAUS, through BSoT.
How has BSoT adapted to support its members during the COVID-19 pandemic?
Like every other organisation, BSoT has had to migrate to almost wholly digital support for members. We have seen the delivery of virtual events as part of our holistic support of our members, including two Fun Runs for TUF (raising thousands of pounds), a virtual 'University Challenge' and a joint day with the Royal Society of Medicine's Urology Section. Behind the scenes we have advocated for members throughout the upheaval to national selection, examinations, and training generally, including the use of Outcome 10s to ensure that those that need it are given adequate time and exposure to urology despite the pressure for trainees to finish.
BSoT are holding their annual conference in Edinburgh early in 2022; what do you think will be the highlights of the meeting?
I can only be biased and say all of it!
On the first day, I hope that trainees of all levels will feel the benefit of sessions on mental and financial wellbeing, including developing the skills to build resilience in both these aspects of life. That afternoon we will see sessions on sustainability in urology, BAUS's plans for equality and diversity, as well as a session from BURST; all alongside almost 50 excellent podium and poster presentations.
The second day will be devoted to each of the subspecialty interest modules of the new curriculum. For those approaching their Intercollegiate Speciality Exam in Urology, these sessions will see updates and key papers for each of the subspecialties; for trainees earlier in their careers, insights into why these modules will be of interest; and for those undertaking the modules, discussion of best practice in their index procedures.
For medical students and those seeking an NTN at National Selection in the current round, we have preconference courses on urological skills and viva practice for national selection respectively, included in their cost of registration.
Last, but not least, and any restrictions permitting, I'm sure that what will be for many the first conference dinner in years (or for some, ever) will be a fantastic opportunity to meet and socialise with peers from every corner of the country, and a particular highlight. Kindly subsidised by Karl Storz, again this is included with everyone's registration.
Would you encourage other trainees to get involved in BSoT?
Definitely. More importantly, I'd encourage them to get involved now, and even more so if they don't think BSoT is quite the organisation that represents them (yet!).
In the eyes of BAUS, anyone and everyone pursuing a career as a consultant urologist is a trainee, whether pursuing a CESR on an alternative training pathway, or the traditional route to a CCT via a national training number; from a medical student dipping a toe in the water for the first time (perhaps not the best analogy given our specialty), to the post-CCT fellow with us for one last year before becoming a consultant. We represent them.
The best way for us to do that is for our members to get involved and tell us how we should be doing it. I hope the BSoT conference in January inspires trainees by showing them some of the work that BAUS is doing to better involve them, even as I hope they see that we are working hard to involve more trainees of different levels, and outside of traditional training pathways, in our events.
Lastly, I hope that in my time as Chair of BSOT we will be recognised as having truly moved away from representing only those with an NTN, as our predecessors in SURG did, to representing everyone pursuing a career as a consultant urologist.
And finally, if you have any spare time, what do you do to relax?
I have two young boys at home, and despite the rewarding nature of my job, time with my family is absolutely the highlight of my day. Even if it does seem to involve a disproportionate amount of time lying on the floor being beaten up by Spiderman and the Incredible Hulk.
Many thanks for your time!