Event Details
Date:
19 June 2023
- 21 June 2023
---
Location name: Birmingham, UK
---
Location address: International Convention Centre
Broad Street
Birmingham
B1 2EA
UK
---
Contact: BAUS Events
---
---
---
Click to view dynamic map
REPORT
Day 1 Highlights by: Omer Abdalla, Urology ST6 - Wirral University Teaching Hospitals, Mersey BSoT Trainee's rep (@Omer_Uro1).
BAUS 2023 began last night with a wonderful welcome reception at the Birmingham Library, where urologists from throughout the UK met again, along with special international renowned speakers from across the globe.
Today started with coffee, greetings and chat between colleagues. The main highlights of the day included a thought-provoking session about language in urology and how words matter, chaired by BAUS President Joanne Cresswell and Vice-President Ian Pearce. Susan Willis spoke about the BAUS vision of widening participation, followed by Tina Rashid discussing principles of pronouns and explaining the butterfly effect and impact of a physician's language. Miss Rashid emphasised the importance of addressing a patient with their correct gender identity and shared tips on how urologists can improve this area in their day to day practice.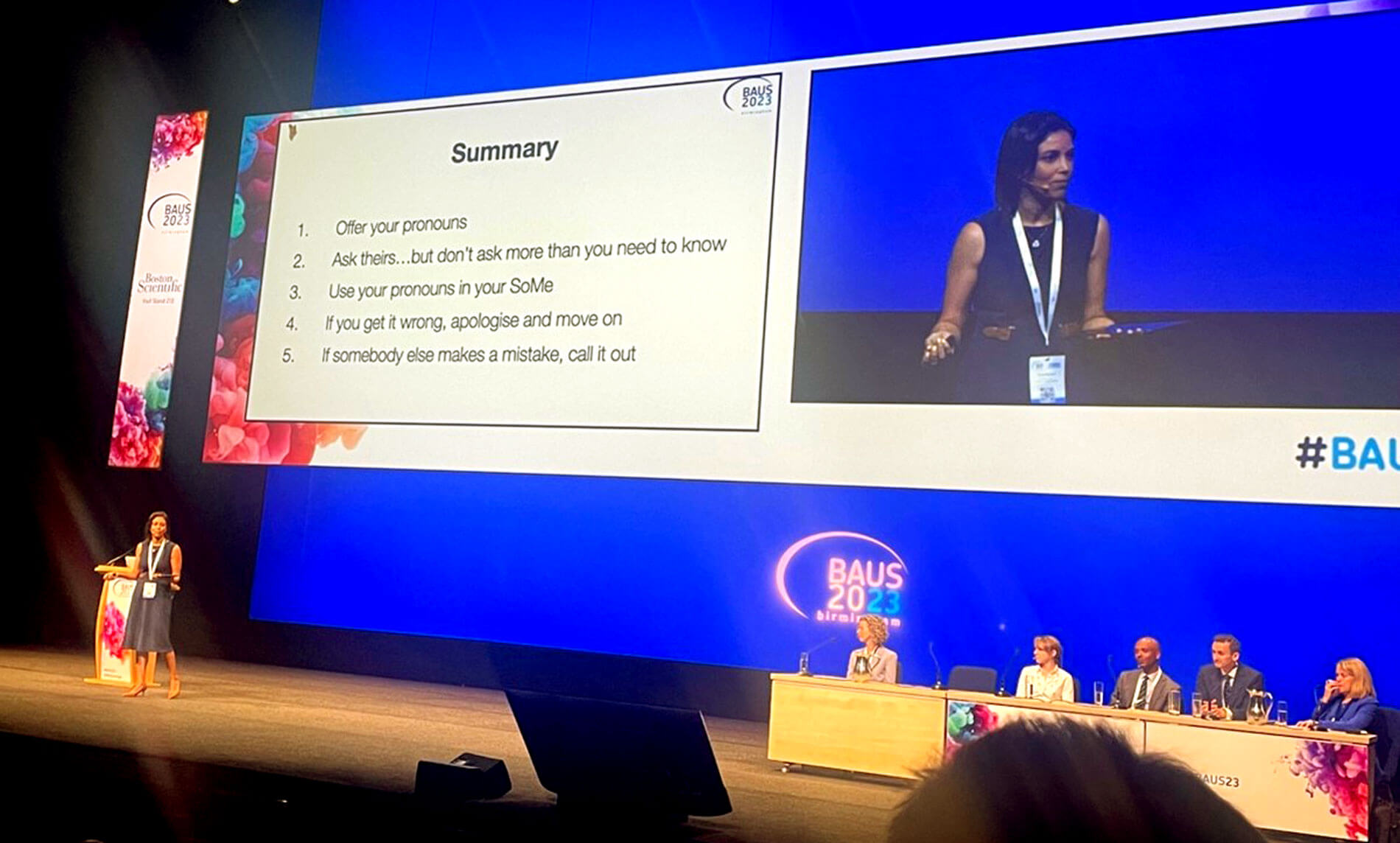 On the same theme Caitríona Cox explained how language could potentially disempower patients and showed evidence of how healthcare providers' words can affect a patient's response or attitude. And finally, the Hunterian Lecture by Marcus Cumberbatch addressed the role of social inequalities in urological cancer epidemiology. The session was a great success with a huge turnout.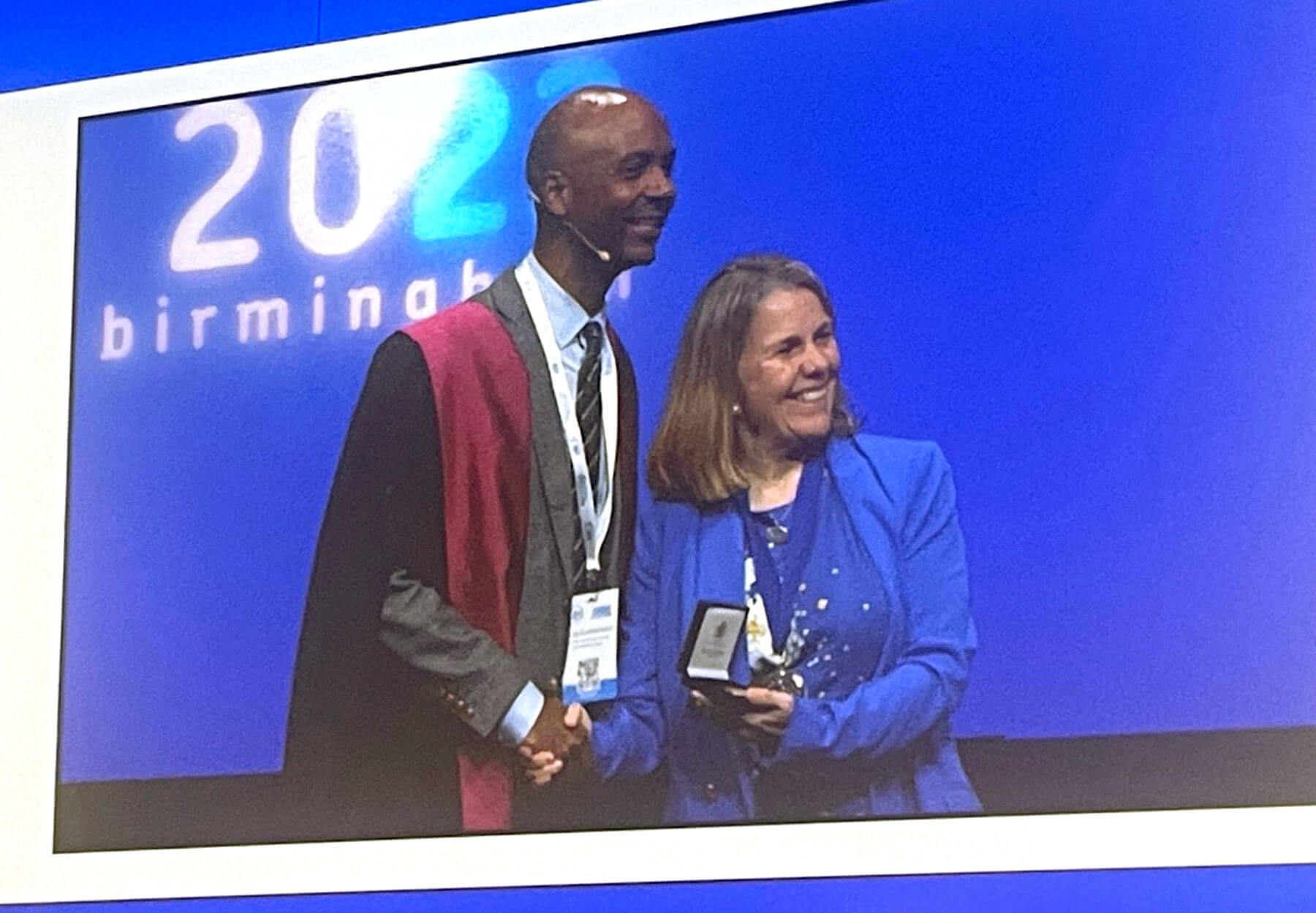 Another of my personal highlights of the day was the advanced kidney cancer session with international guest speaker Professor Mihir Desai from the University of Southern California showing how robotic surgery pushed the boundaries in advanced RCC IVC thrombus, and sharing his USC data and techniques in dealing with challenging cases.
BAUS 2023 has given trainees a great opportunity to connect with international speakers in a new initiative launched in collaboration with BSoT, which assigns each speaker with a trainee. I had the honour to be with Professor Desai who offered career advice and guided me towards a few opportunities. Professor Desai is going to discuss a broad educational programme between the UK and USA and trainees should watch out for upcoming opportunities on the horizon.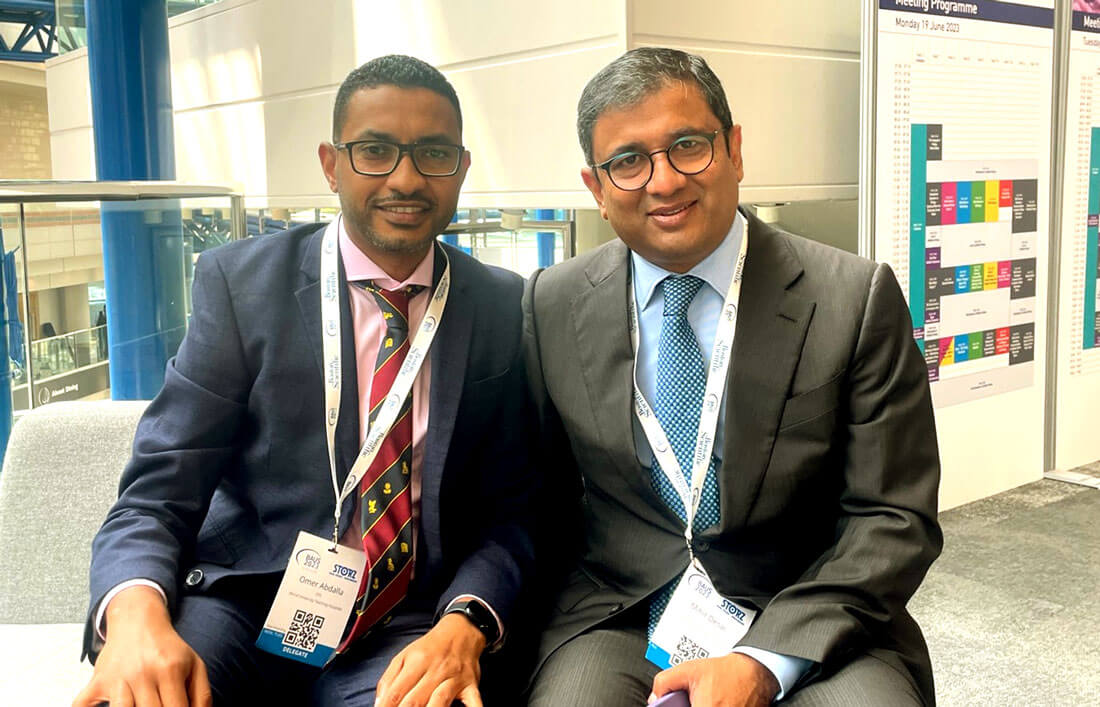 Day 2 Highlights by: Kelly Ong, Senior Clinical Fellow in Urology, Princess Royal University Hospital (PRUH), Kent.
A little light rain in Birmingham this morning did not dampen our spirits and quest for knowledge. The first stop on this educational journey was a plenary on the crucial topic of consent for surveillance. The question was whether patients truly understand the rationale and implications of surveillance. Surveillance strategies are applied in various aspects of urological management – from cancers to stones. The 'for' and 'against' were debated eloquently by Vincent J Gnanapragasam and Jonathan Glass. It is definitely a challenge balancing the input of medical professionals in shared decision-making and discharging all responsibility to patients. Lauren Sutherland KC highlighted that the key is ultimately a tailored discussion with patients offering all reasonable choices in order for them to exercise a choice. After the talk 'How to be sued' by John Reynard, I had a sobering reflection on the impact of chosen words and language used with patients, especially in consent forms.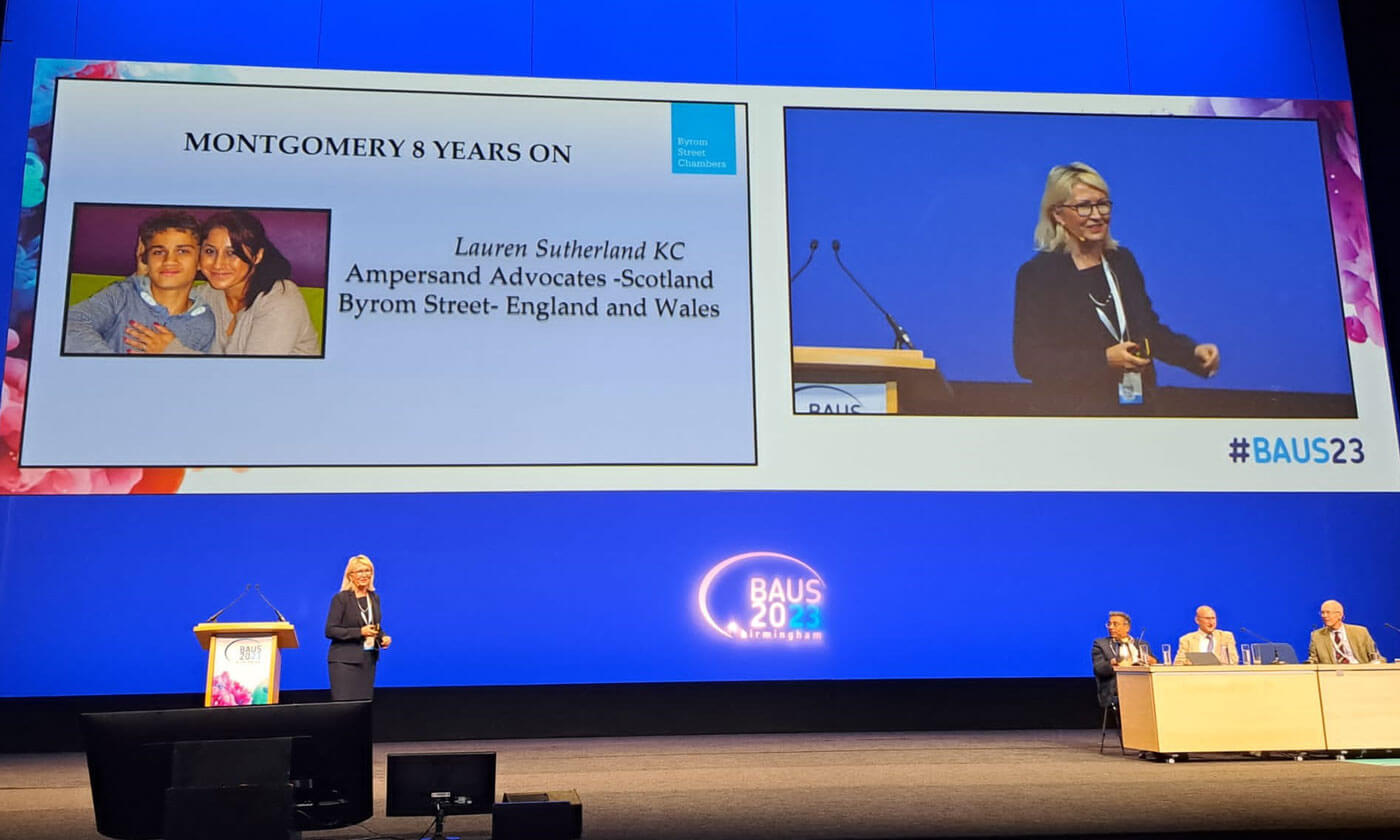 After the morning plenary, I made my way to the next session: 'Simple stones, Complex patients'. Stone disease can affect any cohort of the population and inevitably, we will be faced with the challenges of treating stone disease in pregnant, obese, and frail patients. These patients require extra consideration from their preoperative optimisation, intraoperative requirements in terms of position and instruments, as well as their postoperative recovery. The speakers also highlighted the value of involving other specialties to provide safe and holistic care for these patients.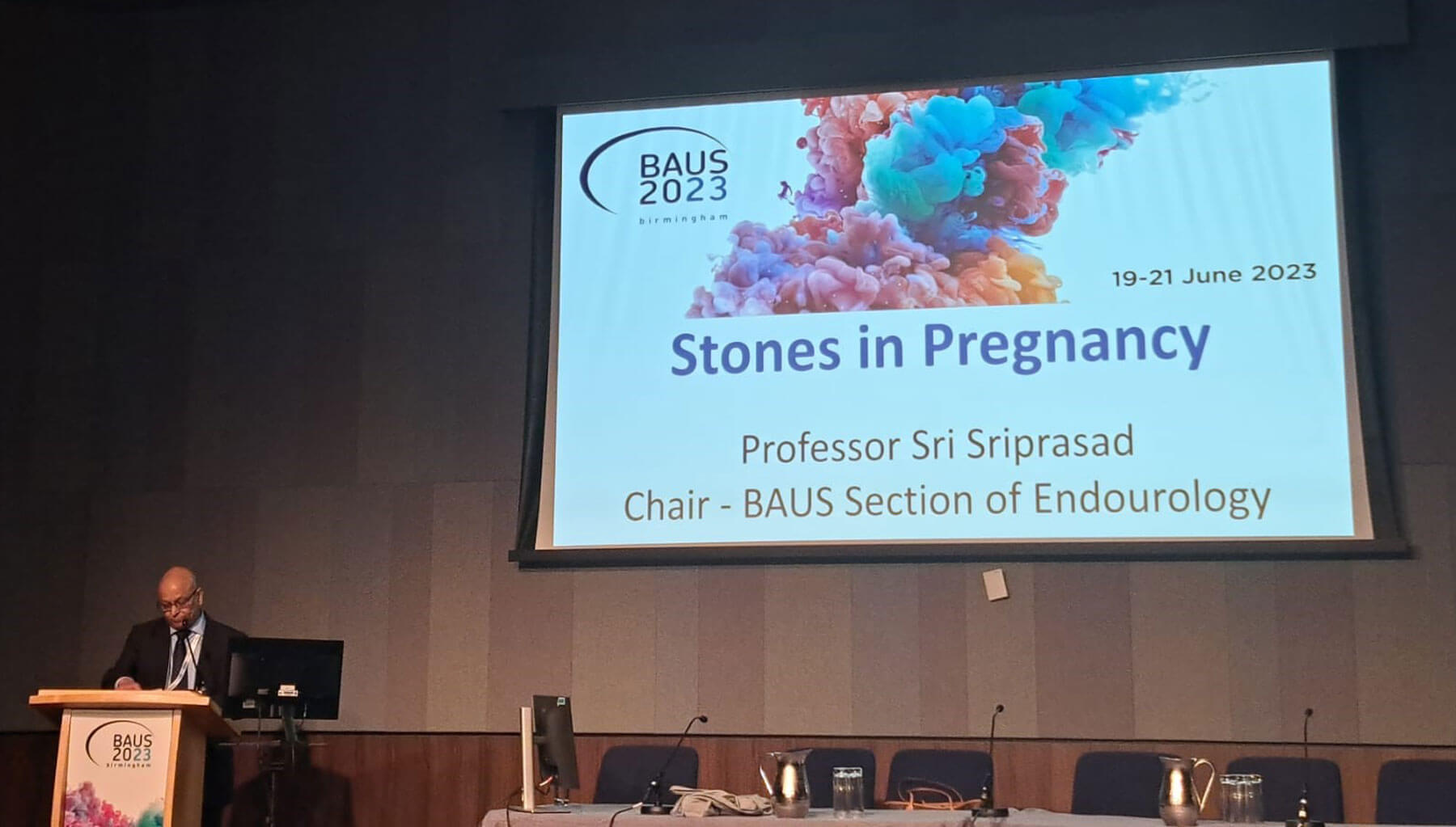 In the afternoon, I signed up to attend the transperineal (TP) prostate biopsy course. There has been a paradigm shift for prostate biopsy from the transrectal to the transperineal approach. This is certainly a key diagnostic skill I would like to learn and master. Simulation is also a great learning tool to help flatten the learning curve and improve patient safety and comfort.
All in all, it has been an extremely fruitful and educational Day 2 at BAUS. I am all geared up and excited for Day 3!
Day 3 Highlights by: Katie Brodie, ST6, East of Scotland.
The final day started with The Urology Foundation breakfast meeting. TUF Chair, Mary Garthwaite, highlighted the priorities for the organisation's transformational and research strategies. There was discussion about the need for breadth of funding across the entire urological disease spectrum and the beauty of TUF is that its help cuts across all of urology. The session used live polls to survey where audience members thought urological funding could be diverted and frontrunners included inequalities in access to urological healthcare and benign urological disease.
Please have your say via the TUF survey which is live until 30 June: https://www.theurologyfoundation.org/news/latest-news/695-have-your-say-on-the-urology-foundation-s-research-strategy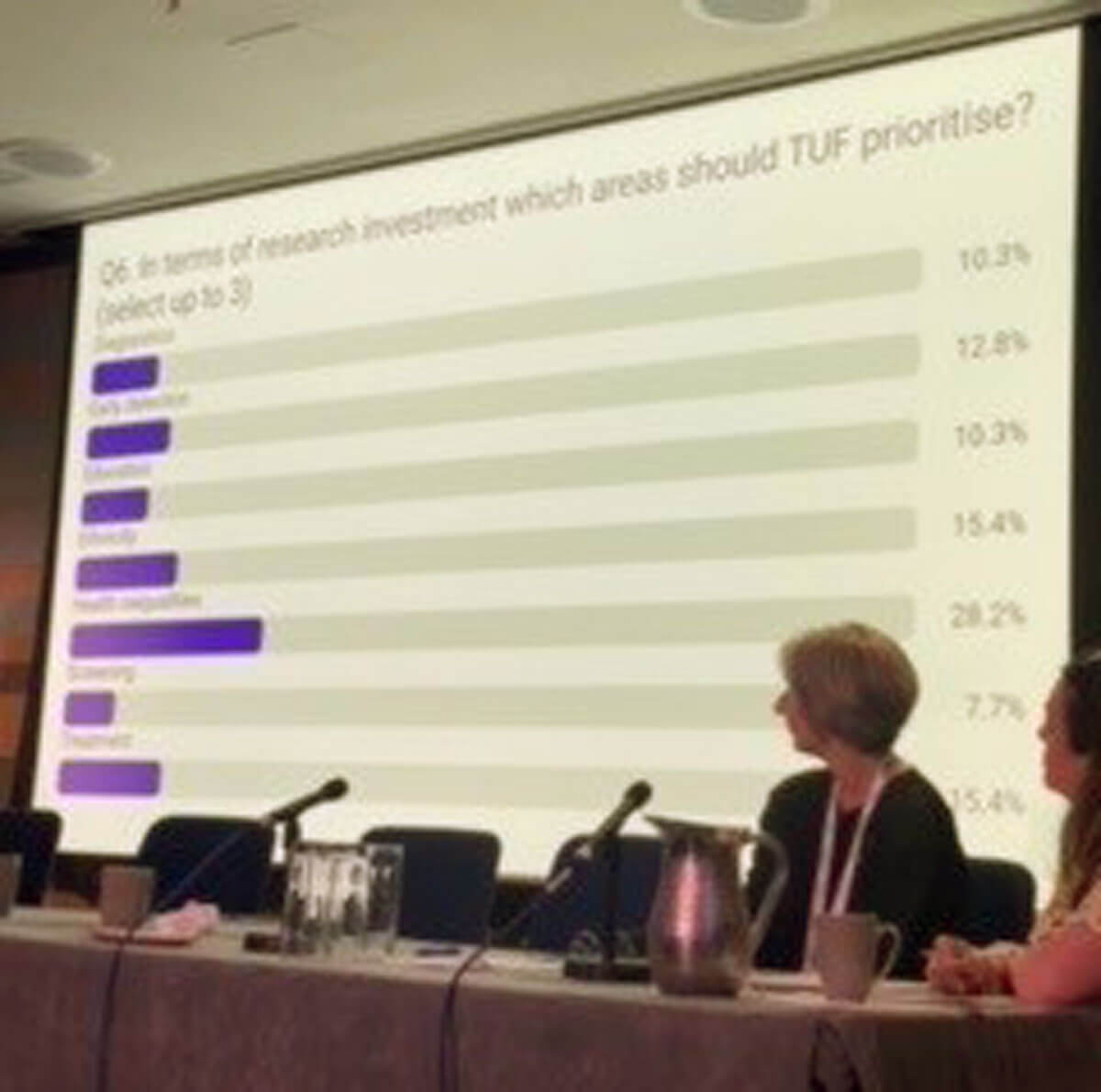 It was then onto the President's address. Jo Cresswell paid thanks to the BAUS regional reps, trustees, staff and council. We were reminded that over the last year, BAUS as an organisation has focused on being an outward-looking society, with significant member contributions to global urology and notable representation of British urology abroad. The BAUS strategic plan for 2023-2026 was summarised which includes a focus on membership and education. The BAUS app is also coming! The take home message was that BAUS encompasses our community, our voice and is our home as urologists.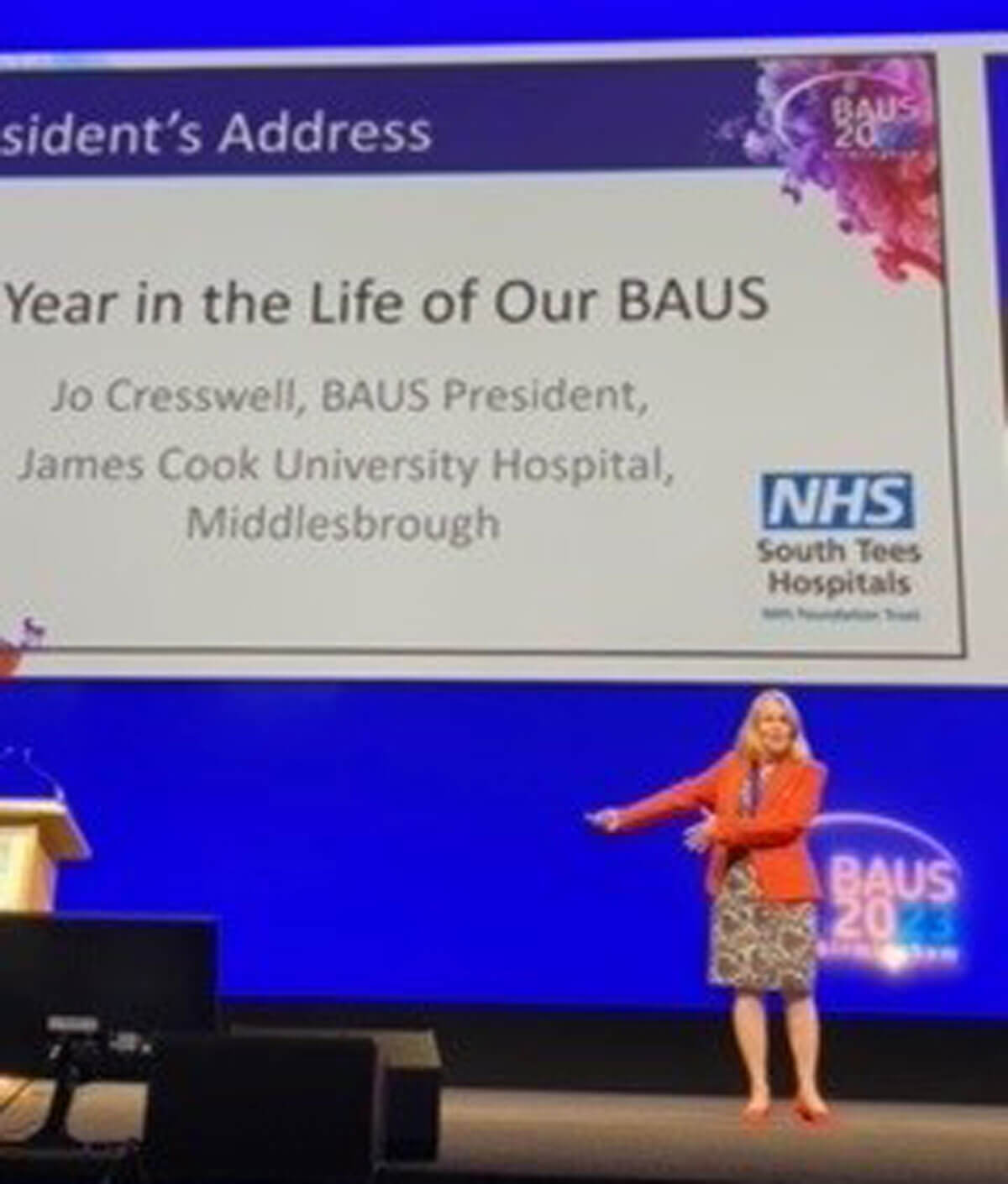 Next the St Peter's medal was presented to Professor James N'Dow and the St Paul's medal to Rajeev TP. Both winners gave moving and inspirational speeches. They both spoke of their journey and their career achievements as leaders in the urological world will have inspired many in the audience.
In the next main session, we were privileged to listen to Mo Belal and his talk on the gift of adversity. He shared his experiences over the last two years and spoke with humour, determination and the need to reset one's timeframe for goals and be more flexible on achieving one's goals. He spoke of using positive thinking, gratitude and to have hope.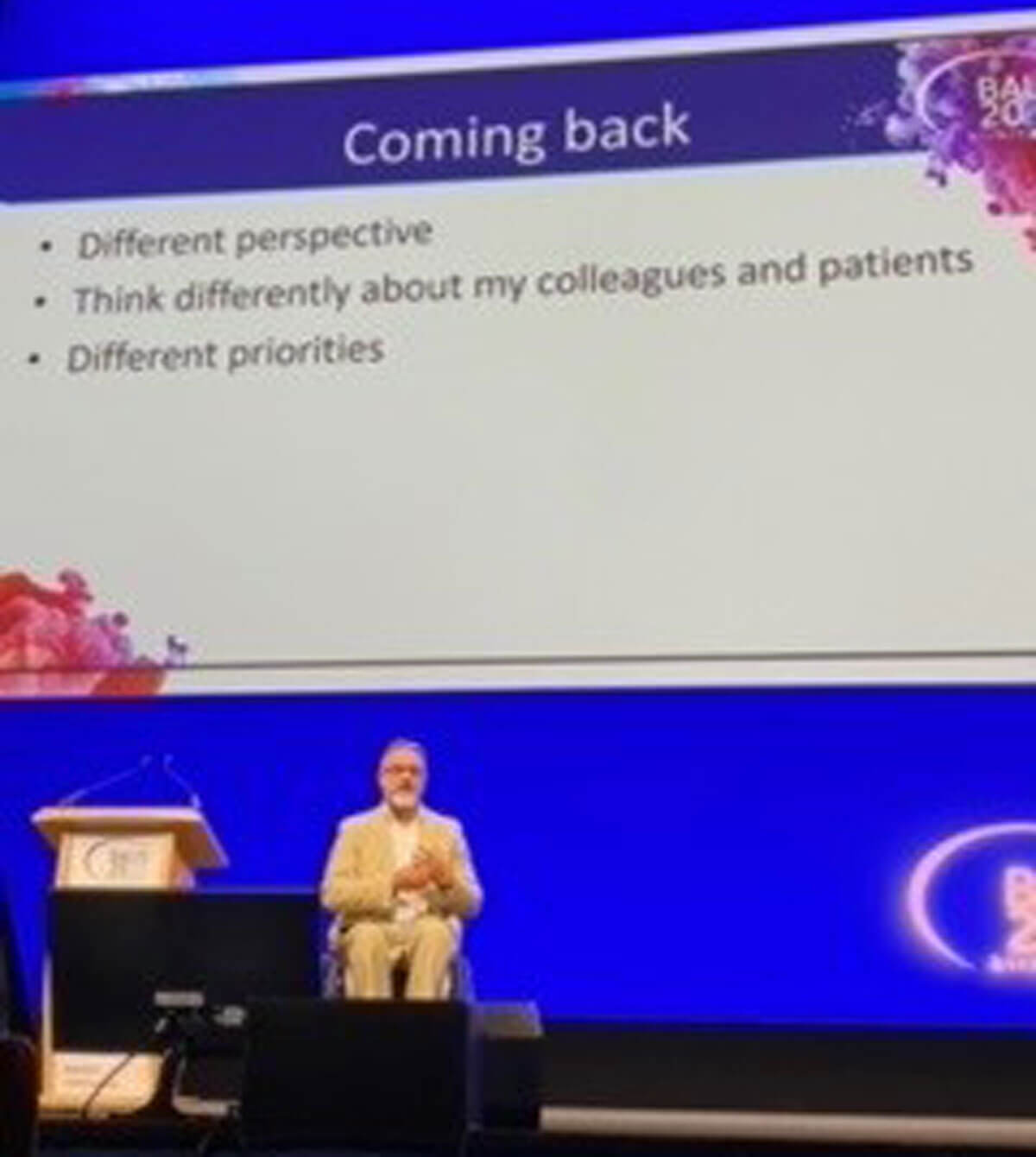 Next it was onto a breakout session; the 'Best of the Regions trainees e-poster session. This was supported by TUF and was well-attended, with a variety of topics presented by trainees who had already won local prizes for their work. The Champions League, so to speak. The topics spanned testicular torsion TWIST scores, TP biopsy simulation, management of small testicular masses, ketamine bladder and access to training courses for Northern Ireland trainees. George Sturgess from Wakefield took home the prize for best presentation on the topic of ketamine bladder.
All in all, today was a fitting conclusion to a fantastic three days!