Event Details
Date: 17 November 2018
---
Location name: Manchester, UK
---
Location address: University of Manchester, Manchester, UK
---
Tel: +44 (0)203 011 1412
---
---
---
Award: 7 CPD points
---
Click to view dynamic map
Native Tissue Continence Surgery Course
18 November 2017; Nottingham, UK
Report by Jay Khastgir, Consultant Urological Surgeon, Swansea, UK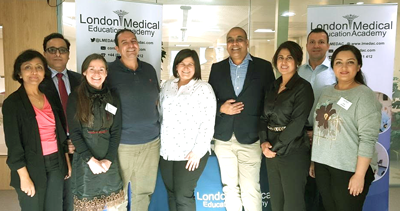 The media storm regarding vaginal mesh surgery that has erupted over recent months has seen headlines in the news media such as 'Experts draw comparisons with the thalidomide scandal' and 'Vaginal mesh operations should be banned, says NICE'. This issue has raised serious concerns in both patients and healthcare providers involved with the treatment of incontinence and pelvic organ prolapse. The 'Sling the Mesh' campaign website quoted a British Society of Urogynaecology (BSUG) and British Society of Urological Surgeons (BAUS) online survey which was published in the International Urogynecology Journal as stating "surgeons are more likely to give women mesh implants because they don't have the skills to do the tried and tested old fashioned / traditional repairs known as Burch or autologous slings." In that publication, the authors concluded "It appeared that many respondents were unable to offer alternative procedures because they had not received training in procedures such as colposuspension or fascial sling. This is an important finding not only for future research plans, but also as a training and clinical governance issue…" [1].
Tension-free vaginal tapes (TVT) or midurethral slings (MUS) were introduced in the 1990s and rapidly gained popularity as a quick, easy-to-learn and highly effective procedure with a short postoperative recovery period. New variations of technique emerged, each claiming to improve on the last, and over the next 20 years or so traditional, more invasive techniques for treatment of stress urinary incontinence (SUI) became rarities.
A recent retrospective study from Bristol reported 115 synthetic MUS procedures vs. 8 colposuspensions and 3 autologous fascial slings performed in one centre in the year 2012. Reflecting the increasing awareness of surgeons as well as patients of the risks associated with the use of mesh, the same centre recorded 72 MUS, 21 colposuspensions and 6 fascial slings [2].
It is indeed time for us to review the options, initiate new research, and renew our skills in stress urinary incontinence surgery and to be able to offer women with SUI all available treatment options. Trainees who need exposure to these procedures are not likely to be able to see many procedures in their own centres. This is where cadaveric training courses, such as the Native Continence Surgery Course run by Wael Agur, Course Director and Consultant Urogynaecologist and the London Medical Education Academy, play a pivotal role in education and governance.
Aimed at consultant functional urologists, urogynaecologists and senior trainees, I think this may be the most in-depth training course currently available in the UK with an unparalleled low delegate to cadaver ratio allowing plenty of time to try and repeat each surgical step. I attended this course in November 2017 at a well-equipped cadaver lab; locations vary across the UK – see website for information.
Day 1 is an Advanced Masterclass of Laparoscopic Urogynaecology and Day 2 the Open Surgical Native Tissue Masterclass. I would recommend doing both together as the anatomy, approaches and tissue handling for the laparoscopic and open approaches perfectly complement each other. On both days, we practised the following techniques: colposuspension via the standard (Burch) technique and its variations (Tanagho and obturator-shelf) and the autologous sling (Aldridge's technique and sling on a string types) – first laparoscopically and then the next day via the open approach. The course faculty included Dr Natalia Price from Oxford and Dr Swati Jha from Sheffield, as well as Mr Wael Agur, who were all impressive in terms of their knowledge and experience.
On arrival, all delegates completed a pre-course multiple choice quiz which would be compared with knowledge gained at the end of the course. Wael Agur and the Head of Operations at LMEDAC, Liz Thornber, started off the day with an introduction about the aims and running of the course with an understanding of the importance of being aware of the current concerns regarding use of mesh in pelvic surgery, the current National Institute for Health & Care Excellence (NICE) guidance, General Medical Council (GMC) recommendations on consent, and the Montgomery ruling. This was followed by a fascinating and detailed discussion on the relevant surgical anatomy of the pelvis which included a discussion on the scarily named 'corona mortis' and the aberrant obturator artery.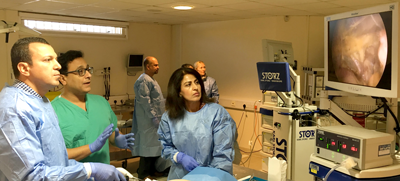 The hands-on cadaveric teaching commenced without delay, and the teaching alternated between the cadaver lab and the lecture theatre with coffee breaks and a buffet lunch to break up the day. In the cadaveric lab we were allocated one cadaver for two delegates while the faculty circulated between us to provide direct instructions on each step. We were free to circulate as well, which allowed the delegates to learn from each other.
We were taught the anatomical basis of various retropubic urethropexy procedures including the Marshall-Marchetti-Krantz, Burch colposuspension, Tanagho colposuspension, paravaginal repair, and obturator-shelf procedure. Similarly, the autologous fascial sling techniques were described detailing each surgical step including surgical positioning, instruments and suture materials, anatomical landmarks and points of technique. Each of the faculty provided a different perspective to the techniques which was actively debated, allowing the delegates to decide on which approach would be most suitable to a given situation. Complications and their management were also discussed in detail and invariably the discussion strayed to dealing with complications of mesh surgery as well.
The debates continued over coffee and lunch, and I sincerely think we could not have gone into any more detail than we all did on those two days. The course fee for each day is £950 (ex VAT) which may seem slightly steep on the face of it, but when you consider the cadaver to delegate ratio of 1:2 or 1:4 (cadavers are expensive to source), the depth of knowledge gained which will be central to your functional urology or urogynaecology practice, and the clinical governance implications of having such training under your belt, it is indeed a small price to pay.
References 
Tincello DG, Armstrong N, Hilton P, Buckley B. Surgery for recurrent stress urinary incontinence: the views of surgeons and women. Int Urogynecol J 2018;29:45-54.
Wyndaele M, Madhu C, Sen S, et al. Back to the future in female stress urinary incontinence surgery – are the titans rising again? Neurourology Urodynam 2017;36(S3):Abstract 282.