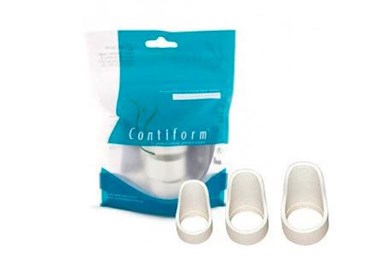 Contiform, trusted, original and best intra-vaginal device. Loved by patients and clinicians, has been helping women worldwide to manage stress urinary incontinence for 25 years. 
Contiform is a clinical proven pessary designed by a gynaecologist, to be used as a self-medicating pessary, to be inserted and removed by the patient. Contiform can give immediate and lasting control of stress incontinence. It's perfect for patients that want to use it when running or doing short term physical exercise, and can be used right throughout the monthly cycle.
Contiform is a reusable device – better value for money – costing on average just *43p a day if bought online via our webpage www.contiform.co.uk and better for the environment. It's also available on prescription and we are happy to supply hospitals direct.
*Contiform replacement units will need replacing after 30-40 insertions, for most women this will mean that it needs to be replaced every 3 months.
FURTHER INFORMATION
Pioneer Medical Europe
T: +44 (0)845 303 5868 / 0808 146 9234
E: sales@pioneermedicaleurope.co.uk 
pioneermedicaleurope.co.uk