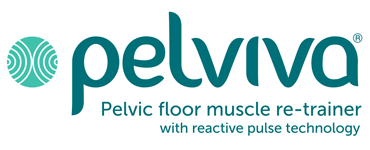 Partnership with Academia Award Winner: Femeda Ltd
Femeda has committed to the first real world clinical trial for a consumer medical device globally to be run in Manchester. Femeda is extending the partnership with engagement of Phd students from the university to contribute to new areas of R&D. The judging panel were impressed that the partnership has been the basis for creating a business.
Shortlisted:
Aga Nanotech/Gama Healthcare Ltd
TalarMade Ltd
Lucid Group Ltd
Femeda Ltd has won the Medilink "Partnership with Academia Award" 2019. Leading the way in innovation, Pelviva® is a Pelvic Floor muscle re-trainer with Reactive Pulse Technology-RPT™ that offers a long-awaited solution for female bladder leakage, a condition that affects more than one in three women1. Pelviva launched into the UK market in October 2018.
The prestigious awards celebrate success spanning the whole of the North of England. The ceremony which was held at Hilton Leeds City last month saw industry, academia and the NHS come together to toast the achievements of the incredibly strong health sector regionally. Speaker at the black tie dinner was Professor Steve Haake, founding director of the Advanced Wellbeing Research Centre in Sheffield. Companies from across the north were shortlisted for the 2019 Medilink North of England Healthcare Business Awards.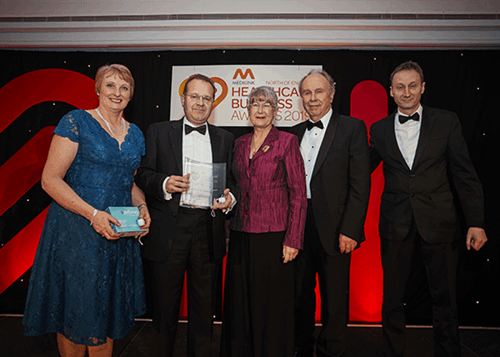 Julia Herbert Clinical Director, Andrew Tasker CEO, Femeda Ltd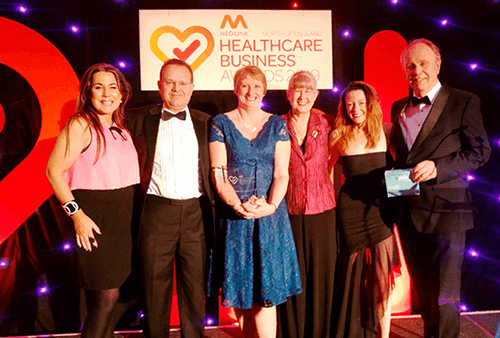 Team Femeda Ltd, winners of the Partnership with Academia Award
Professor Jacqueline Oldham PhD, BSc (Hons), RGN, Director of Corridor Manchester Health Innovation said: "Pelviva is the result of pain staking research through academic, clinical and industry collaboration bringing innovation into healthcare. This trail blazing development has the potential to transform the lives of women world wide."
Bladder leakage is the term Femeda choose to use when talking about this condition as women find it difficult to relate to the correct medical term 'Urinary Incontinence' which is more commonly associated with the elderly and infirm.
Andrew Tasker, CEO of Femeda said: "It is a great achievement to have won in this category. This recognises the result of 10 years research and development to bring to market a highly consumer acceptable medical device which delivers a clinically proven treatment, addressing the biggest unmet need in female health. The unique development is the result of combining advanced research and patents from University of Manchester with Femeda product development to deliver a product which meets the patient need. We value the partnership with the University of Manchester and we are continuing to work closely with the team and broader healthcare infrastructure in Manchester to implement a landmark real world clinical trial this year".
A lack of market innovation led Femeda Ltd to develop Pelviva – a disposable, clinically effective, discreet and easy-to-use Pelvic Floor muscle re-trainer for the treatment of bladder leakage in women.
'A third of all women suffer from bladder leakage1and Pelviva is the first product of its kind that is really easy to use and is clinically proven to treat bladder leaks,"continues Tasker. "Pelviva is a pioneering medical device that will have a life-changing impact on women's quality of life.2"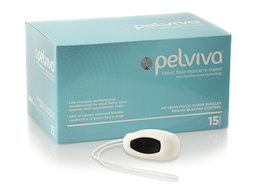 Pelviva incorporates a revolutionary pattern of neuromuscular electrical stimulation using a programme developed by Professor Oldham at The University of Manchester. Each device contains a unique microprocessor that delivers Reactive Pulse Technology (RPT™) to the Pelvic Floor muscles. The Pelviva reactive pulse mimics the way the body works naturally, causing the Pelvic Floor muscles to contract. This helps restore speed and strength to the power fibres, to prevent bladder leakage when women cough, laugh, sneeze or exercise. It also re-trains the endurance fibres to hold on when a woman urgently needs the toilet, giving back control over urgency bladder leakage.
Pelviva is made of a Body Responsive Foam, which adapts to every woman's individual shape.3 The unique Pelviva RPT delivers a series of intensive reactive pulses every alternate 10 seconds, to stimulate the Pelvic Floor muscles.3  Each 30 minute treatment using the Pelviva innovative stimulation programme delivers up to 25% greater penetration of the deep pelvic muscle than conventional stimulation.4
Pelviva is supported by a comprehensive package of clinical data. In a 12-week randomised single-blind clinical study involving 123 women, 84% of women using Pelviva reported improvement in bladder control. The Pelviva women reported a four times greater improvement in quality of life versus women who followed an unsupervised Pelvic Floor muscle exercise programme alone.2
Femeda Ltd won in the Product of the Year category at the prestigious Bionow 2018 Awards, which acknowledge ingenuity, dedication and the accomplishments of those who drive innovation and deliver outstanding results within the biomedical and life science sectors across Northern England.
In recognition of the major support the business has received from clinicians and academics in the Manchester area to bring Pelviva to the market, Femeda Ltd is investing back in the Greater Manchester community. The business is committing to provide up to £50,000 of Pelviva product to women with bladder leakage in the region, via the appropriate clinicians and hospital trusts. Femeda is working with Health Innovation Manchester and the relevant Trusts, as well as primary and secondary care providers to make this product available to women.
Pelviva is available to buy on the website www.pelviva.com and soon to be available in pharmacies.
References:
Hunskaar S, Lose G, Sykes D, Voss S. The prevalence of urinary incontinence in women in four European countries. BJU Int. 2004 Feb;93(3):324-30. 
Oldham J, Herbert J, McBride K. Evaluation of a new disposable 'tampon-like' electrostimulation technology (Pelviva®) for the treatment of urinary incontinence in women: a 12-week single blind randomized controlled trial. Neurourology Urodynamics 2013; 32(5):460-466. doi 10.1002/nau.22326. 
Femeda data on file 2014 
Binder-Macleod S, Lee S, Fritz A, Kucharski L. New Look at Force-Frequency Relationship of Human Skeletal Muscle: Effects of Fatigue. Journal of Neurophysiology 1998; 79:1858-1868