Solatumfarma's new sodium hyaluronate GAG replenisher offers to improve treatment for patients with chronic cystitis.
Solatum™ GAG replenisher is a 40mg dose of sodium hyaluronate but a 20ml volume – under half the volume of the most commonly used products [1], helping to maximise dwell time, even in patients with low functional capacity [2].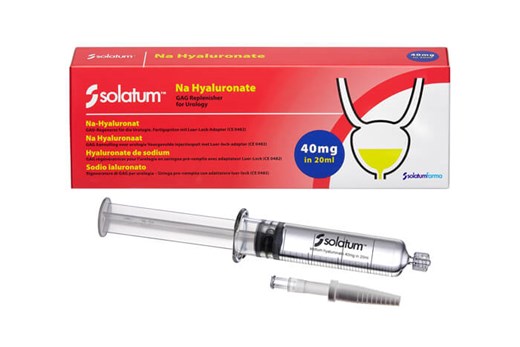 Solatum™ GAG replenisher is a ready-to-use, pre-filled syringe eliminating preparation time and the need to supply consumables. An adapter is supplied to facilitate connection to any catheter.
Temporary replacement of the glycosaminoglycan (GAG) layer of the bladder is a widely adopted approach in the treatment of chronic cystitis – painful bladder syndrome (PBS), interstitial cystitis (IC), recurrent UTI and radiation cystitis.
Additionally, Solatum™ is available at a lower cost than any other GAG replenisher.
Samples are available. Please complete the form at solatumfarma.com/clinics or contact: tony@solatumfarma.com
PIP code 4134094 from Alliance Wholesalers.
FURTHER INFORMATION
Solatumfarma

T: +44 (0)7702 803853

E: info@solatumfarma.co.uk

www.solatumfarma.com

1. Solatumfarma data on file 2019.
2. Riedl CR, Engelhardt PF, Daha KL et al. Int Urogynecol J 2008;19:717.