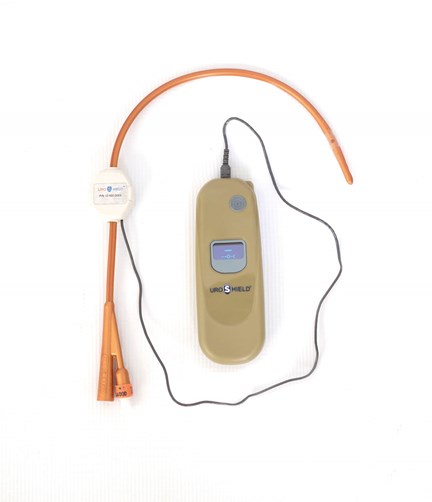 UroShield™ is a breakthrough disposable ultrasound device developed to prevent catheter blockages and biofilm formation, resulting in a reduction in Urinary Tract Infections (UTI) and therefore reducing the need for antibiotics, improving patient outcomes and lowering healthcare costs. UroShield™ utilises low-frequency surface acoustic waves to prevent bacterial attachment and is the only technology currently available on the market to use this approach.  
The UroShield™System consists of 2 parts, a driver which supplies the power and an actuator which is attached to the catheter. The driver can be attached directly to the power outlet or operate on battery power. The actuators are attached to the exterior part of any indwelling urinary catheter through suprapubic or urethral route and are changed every 30 days for optimal ultrasound transmission and hygiene. 
A recently completed real-world evaluation, conducted by da Silva et al between 2018-2020, confirmed that the UroShield™ was extremely effective as a bacteriostatic agent. 23 patients were recruited from various NHS trusts to trial the UroShield™ over a 12-week period. The device was able to significantly reduce UTIs and antibiotic treatment in patients with indwelling catheters. Importantly, patients experienced a significant reduction in pain by the end of the trial, in addition to a reduction in the number of catheter blockages, unplanned catheter changes, and overall increased quality of life. 
FURTHER INFORMATION
Ideal Medical Solutions
T: +44 (0)208 773 7844  
E: admin@ideal-ms.com
www.ideal-ms.com