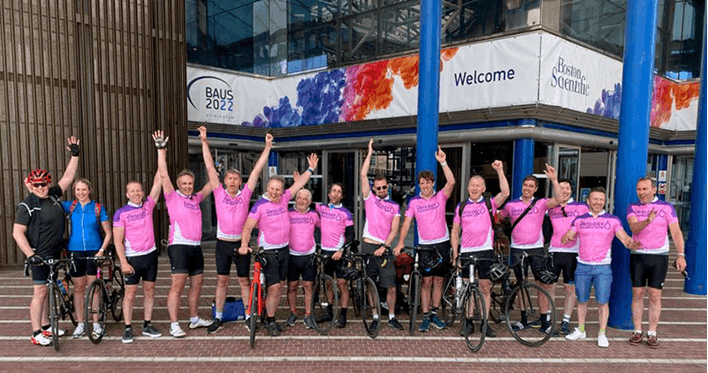 Surgeons from around the UK completed a three-day cycling challenge to raise vital funds and awareness for The Urology Foundation. Twenty cyclists set off from College Green in the centre of Bristol on the 210 mile challenge. They arrived at Birmingham's International Conference Centre on Sunday 12th June for the BAUS annual conference.
This year marks the ninth annual Bike4TUF challenge, which has raised in excess of £300,000 since 2012's inaugural ride. The cyclists had raised £6,218 at time of press – donations can still be made at www.justgiving.com/campaign/bike4tuf2022.
The Urology Foundation invests in research, technical training, innovative technologies and practices, education, and raising public awareness of urological conditions.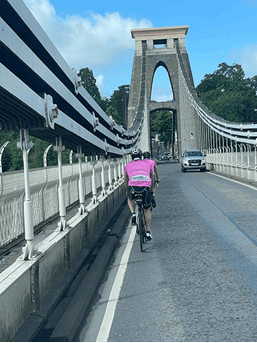 The Urology Foundation funded the recent iROC clinical trial comparing robotic-assisted surgery to open surgery in bladder cancer removal and reconstruction. The study found that robotic-assisted surgery enabled patients to recover more quickly, reduced time in hospital by 20%, halved re-admission rates, and reduced the prevalence of blood clots by 77% . The study, published in JAMA, was presented at the BAUS conference this week.
Rebecca Porta, Chief Executive of The Urology Foundation, said: "We wish the cyclists the very best of luck and thank them for their remarkable efforts to support our mission. It's never been more important to raise awareness of urological conditions, and invest in the training, research and innovations that will improve outcomes."
Ben Eddy, Consultant Urological Surgeon in Kent and London said: "As we mark a decade of Bike4TUF, I'm proud to be back cycling again alongside fellow surgeons and patients for such an important cause. As well as raising funds for The Urology Foundation, the Bike4TUF challenge is a vital opportunity to raise awareness of urological conditions and urge people with symptoms to come forward and get tested."
FURTHER INFORMATION
The Urology Foundation
E: info@theurologyfoundation.org
www.theurologyfoundation.org