Event Details
Date:
24 April 2020
- 25 April 2020
---
Location name: London, UK
---
Location address: Imperial College London, South Kensington, London SW7 2AZ
---
Contact: Feargus Hosking-Jervis
---
Tel: +44 (0)7751812269
---
---
---
Click to view dynamic map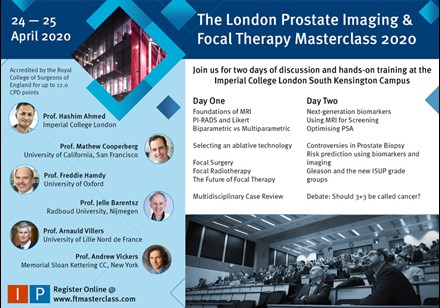 The Prostate Imaging and Focal Therapy Masterclass will be returning for its third consecutive year on 24-25 April 2020. This two-day event promises to deliver everything needed to put you at the forefront of prostate imaging and focal therapy in 2020. There will be lively presentations and case discussions provided by a host of expert speakers such as Arnauld Villers, Matt Cooperberg, Jelle Barentz, Freddie Hamdy and Hashim U Ahmed.
The innovative programme gives delegates a choice from 10 different hands-on training courses. These include popular hands-on mpMRI training courses as well as other courses on targeted biopsy techniques and a range of focal therapy treatments.
The course is well located at the South Kensington Campus of Imperial College London, near West London's museum and shopping centres, and close to Bailey's Hotel who are providing discounted rates.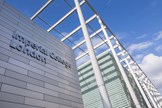 Don't miss the opportunity to register for Early Bird registration (-20%) which is available until 31 December 2019 on www.ftmasterclass.com