Event Details
Date:
27 August 2021
- 31 July 2023
---
Time: 14:39
---
Location name: Edinburgh, UK
---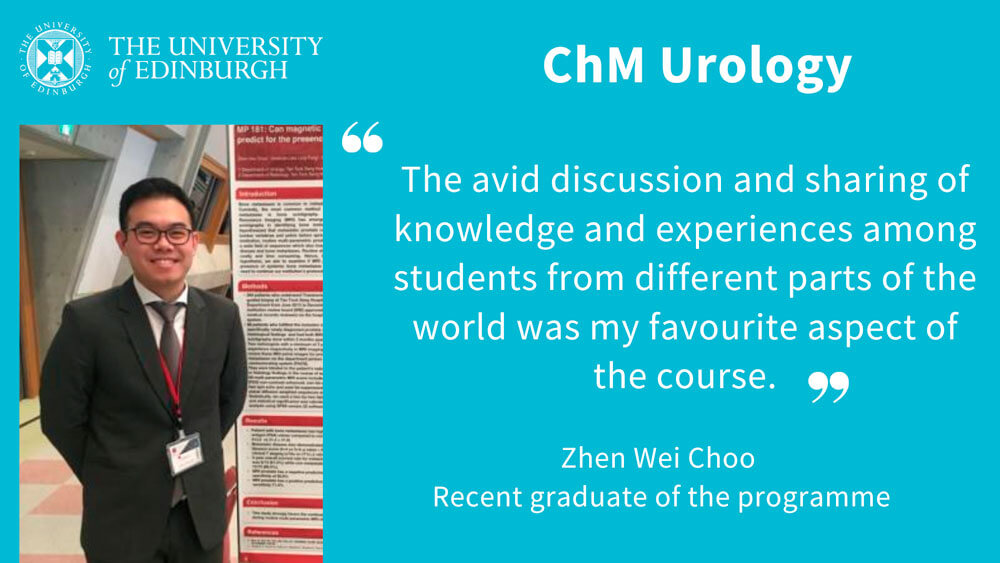 Application Deadline: 27 August 2021
Programme Start Date: 13th September 2021
Location: Edinburgh, Scotland
Study Type: Online
Pace: Part-time
Duration: 2 years
This online, exclusively distance-based programme is delivered by the University in partnership with the Royal College of Surgeons of Edinburgh and leads to the award of Master of Surgery (ChM). It runs alongside clinical training and complements in-the-workplace training. You will be supported by asynchronous discussion by our faculty of over 30 Consultant Urologists and Oncologists. 
Based on the UK Intercollegiate Surgical Curriculum, it offers trainees in urology the opportunity to study topics relevant to the speciality and supports preparation for final professional exit exams such as FRCS and FEBU. Your study will allow you to improve your evidence-based knowledge and enhance your clinical practice.  
Our interactive online learning technology enables you to communicate with our highly qualified teaching staff from the comfort of your own home or workplace. Online students not only have access to Edinburgh's excellent resources but also become part of a supportive online community, bringing together students and tutors from around the world. 
Programme structure 
The programme runs on a semester basis over two years and involves approximately 10 hours of study each week, in a flexible modular manner. The online distance learning nature of this programme is perfect for doctors working unsociable shift patterns. You will have access to high-quality, interactive online textbooks, as well as dedicated technological support. 
For further details (including entry requirements), please visit: 
https://www.ed.ac.uk/studying/postgraduate/degrees/index.php?r=site/view&id=792  
For details of scholarships available: 
https://www.edinburghsurgeryonline.com/scholarships  
For informal queries, please contact the ChM Urology team on urology.surgery@ed.ac.uk where we will be happy to answer your questions!