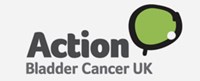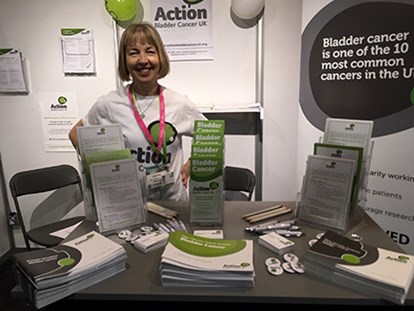 ABC UK is a national charity working for bladder cancer patients. Set up in 2009 we work to raise awareness of bladder cancer and the issues faced by patients; we provide direct support for patients; we work to improve outcomes for patients and encourage and fund research.
The need for our work is great – bladder cancer is greatly neglected despite being one of the ten most common cancers in the UK. It has poor outcomes (over 50% of those diagnosed will die), and a high rate of recurrence. There are few treatment choices and a low rate of research investment.
In the ten years since we were founded, by a group of clinicians and bladder cancer patients, we have achieved an enormous amount. The last two or three years have been particularly exciting as we have grown and widened our impact.
BAUN 2019 ABC UK stand with Jackie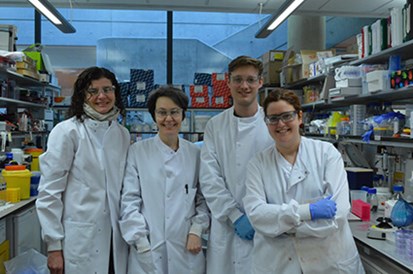 One of our significant achievements has been the creation of ABC UK's grants programme – Improving Outcomes for Patients (IOPP). The first round of this unique programme launched three years ago, with the aim of providing small grants for projects focussed on improving outcomes, or the patient experience, for those with bladder cancer. We've been delighted with the success of this unique programme and the quality of the project applications, and we have been able to fund some exciting new work – including projects such as pump priming, work on biomarkers, looking at improving diagnostic testing, and effectively targeting treatment. We have increased the total funding available year on year and the current grants round - IOPP 2020 – is open for applications until the end of February 2020.
ABC UK IOPP 2018 Prof Anne Kiltie and team, Univ of Oxford
Details on how to apply and guidelines are on ABC UK's website http://actionbladdercanceruk.org/abc-uk-grants
Another notable achievement in 2019 has been the extension of our patient support programme – appropriate and reliable information and direct support for those with bladder cancer is very limited. We have been building our team who are working directly with patients and hospitals and expanding our range of high-quality patient information materials.
In 2020 we are looking forward to continuing to expand our patient support programme, with more staff working regionally with patients and health professionals. We will also be running a series of regional bladder cancer events for patients and building on our services for supporting them directly.
We have also been very involved in contributing to clinical trials and research projects by providing patient input, commenting on proposals and facilitating focus groups – work which we anticipate will increase in 2020.
FURTHER INFORMATION